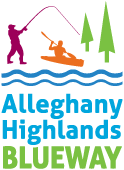 Maps
For detailed maps, click on a section in the map below.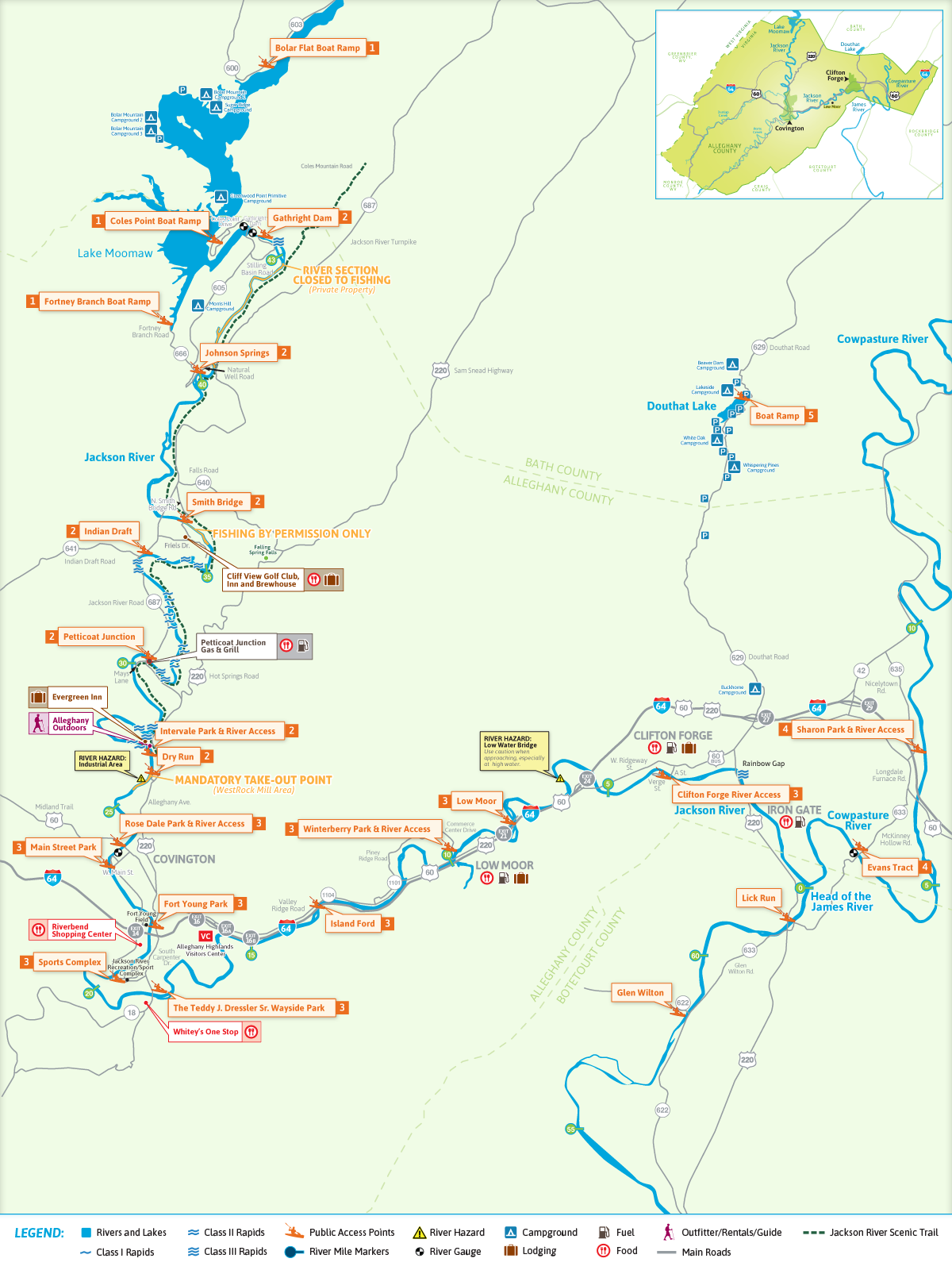 Download PDFs:

Section 1: Lake Moomaw
Up in the Alleghany Highlands lies the Gathright Dam. This massive earthen structure backs up the Jackson River for over 12 miles, forming Lake Moomaw. A U.S. Army Corps of Engineers project, Lake Moomaw was constructed for downstream flow augmentation (water quality), flood control, and recreation. It covers 2,530 surface acres with 43 miles of undeveloped shoreline. The lake offers excellent fishing and boating opportunities. Several excellent boat ramps and U.S. Forest Service campgrounds are available.
Section 2: Gathright Dam to Dry Run (Jackson River Mile 43.5 to 26)
This section normally features crystal clear water, great current, and excellent mountain views. Many class I & II rapids make this section fun and exciting. Due to the continual cold water releases from the dam, it has developed into a famous trout fishery.
While the entire 18 mile section is open to paddlers, two stretches of river run through private property and are closed to fishing. Please respect private property and do not stop on shore or wade in the river. A mandatory take out at the Covington water treatment plant ends this upper section of the Jackson River as it enters an industrial area just upstream of Covington.
Section 3: Rose Dale Park to Head of the James River (Jackson River Mile 24 to 0)
The lower 24 mile section of the Jackson River meanders through Covington and Clifton Forge as it makes its way to join with the Cowpasture River to form the James River below the town of Iron Gate. This section of river contains numerous class I & II rapids. The most challenging section is located below Clifton Forge and is known locally as Rainbow Gap. It features a class II/III section for those looking for excitement. Ample boat landings are spaced throughout the lower Jackson River, providing easy access and numerous trip options.
Section 4: Sharon Park to Head of the James River (Jackson River Mile 7 to 0)
This section of the Cowpasture River offers paddlers crystal clear water and steady current with many class I & II rapids as it passes through rural farms along the way. The Cowpasture River is free flowing through some of western Virginia's most scenic landscapes. This section is generally passable in the spring or after a significant rain event. In dry periods, the water level can get low, so be sure to check the river gauge before you attempt this section.
Section 5: Douthat Lake
Douthat Lake is a 50 acre man made lake that is part of Douthat State Park. The park was one of the original six state parks of Virginia and is on the National Register of Historic Places. A boat ramp launch is available April through October. A variety of rental boats are available. No gasoline-powered boats are allowed on the lake. Douthat State Park allows trout fishing in its stocked lake with a valid Virginia Fishing license and a daily permit. Swimming in the beach area of the lake is open from Memorial Day through Labor Day. Some park access fees apply for use of lake.