Scenic drives are a popular way to see the beauty of the Alleghany Highlands.
Motorcycle riders especially love the peaceful and winding roads. Two of the greatest icons of Virginia's Mountains happen to be roadside attractions in the Alleghany Highlands. Falling Spring Falls, located just north of Covington, is one of the most photographed spots in the Commonwealth. Humpback Bridge, on Route 60 west of downtown Covington, is a popular place for a picnic and is home to one of the most unique LOVEworks signs in Virginia.
Travel in any direction out of our two charming downtowns you'll find great scenery. These three routes will introduce you to some of the most breathtaking scenery in the Alleghany Highlands and perhaps a few hidden gems along the way.
Scenic Drives:
#1: Lake Moomaw – Humpback Bridge



Begin: W. Main St. in downtown Covington
• Turn left on N. Monroe Ave. followed by a quick right on W. Riverside St.
• Turn left on N. Alleghany Ave (north on Route 220)
*Pass Intervale Trailhead of Jackson River Scenic Trail, proceed up Warm Springs Mountain, pass Falling Spring Falls
• Turn left on Falls Rd (Route 620) just past Falling Spring Falls
• Turn right on Jackson River Road (Route 687)
• Turn left on Natural Well Road (Route 638) just before Natural Well Trailhead
• Bear right on E. Morris Hill Rd. (Route 666)
• Turn right on Cole's Mountain Rd. (Route 605) towards Lake Moomaw
*Pass Morris Hill Campground
• Bear left on Cole's Point Drive
*Pass Cole's Point Beach at Lake Moomaw
• Return on Coles Point Drive to Coles Mountain Rd (Route 605)
• Turn left on E. Morris Hill Rd (Route 666)
• Bear right to remain on E. Morris Hill Rd.
• Turn right on Indian Draft Rd. (Route 641); Continue on Indian Draft Rd as it becomes Route 600
• Turn left on Midland Trail after passing under I-64
• Turn left on Route 159 at the Marathon Gas Station
*Pass Humpback Bridge
Return to downtown Covington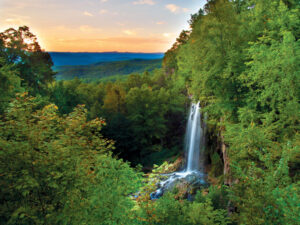 #2: Humpback Bridge – Eastern National Children's Forest



Begin: W. Main St. in downtown Covington
• Turn Left on N. Monroe Ave. (Route 60), cross the Jackson River
• Continue straight as N. Monroe Ave becomes Midland Trail
*Pass Humpback Bridge
• Continue straight on Route 159 past the Marathon Gas Station as road becomes Dunlap Creek Rd.
*Pass Escatawba Farms Fly Fishing
• Continue straight at Crows Split in Road onto Kanawha Trail (Route 311)
*Briefly pass into West Virginia
• Bear left at the fork to remain on Route 311 and proceed up Peter's Mountain
*Briefly enter Craig County
• Turn hard left on Potts Creek Road (Route 18) just outside of Paint Bank, VA
*Pass by Eastern National Children's Forest
• Route 18 becomes S. Carpenter Drive when entering City of Covington
• Turn left on W. Edgemont Dr.
*Pass by Jackson River Sports Complex
• W. Edgemont veers right and becomes S. Rayon Drive as it crosses the Jackson River
• Bear right on W. Jackson St.
• W. Jackson becomes S. Durant Rd. and then becomes S. Craig Ave.
• Bear right as Craig Ave becomes W. Locust St.
• Turn left on N. Marion
• Turn right onto W. Main St.
Return to downtown Covington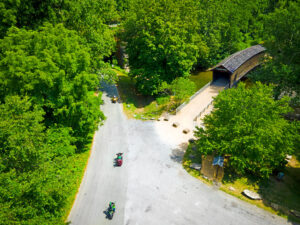 #3: Historic Masonic Theatre – Falling Spring Falls



Begin: Church Street in Clifton Forge in front of Historic Masonic Amphitheater and Clifton Forge School of the Arts
• Head west on Church St., followed by a left turn on Rose Ave.
• Turn Left on Tremont Street, followed by a quick right on Sioux Street
• Continue straight under I-64 on Sulfur Spring Road (Route 606)
*Proceed up Hot Springs Mountain, passing briefly into Bath County
• Turn left on Hot Springs Rd (Route 220 South)
*Pass Falling Spring Falls, proceed over Warm Springs Mountain
• Turn right on E. Riverside Street towards downtown Covington, pass WestRock Mill
• Turn right on Monroe Ave (Route 60 West)
*Pass Humpback Bridge
• Continue straight on Dunlap Creek Rd. (Route 159)
• Straight on Kanawha Trail (Route 311 South); cross briefly into West Virginia
• Turn hard left on Potts Creek Road (Route 18) just outside of Paint Bank, VA
*Pass Eastern National Children's Forest
• Turn right on Blue Spring Run Rd (Route 616)
• Veer left as 616 becomes Rich Patch Road
• Turn left to remain on Rich Patch Road (Route 16) where it meets Roaring Run Rd.
• Turn right on Selma Low Moor Road (Route 696)
• Merge briefly onto Richmond St; then Left on Selma Low Moor Road (Route 696)
• Turn right on W. Ridgeway St (US 60 Business) through downtown Clifton Forge
• Turn right on Main Street and a quick left on Jefferson Ave.
Return to Church St. in Clifton Forge