Humpback Bridge is a cherished landmark and a popular place for locals and visitors to gather for a picnic or a photo.
It's also one of the most recognized and iconic structures in Virginia. The bridge is listed on both the Virginia Landmarks Register and the National Register of Historic Places. Visitors who stop for a photo are encouraged to tag @VisitAlleghanyHighlandsVA on Instagram and use #UniquelyAlleghany and #HumpbackBridge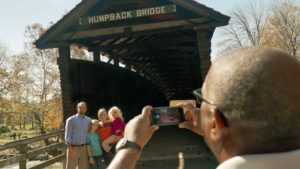 Humpback Bridge was built in 1857 over Dunlap Creek. It is a 100 foot long single span structure, 4 feet higher in the center than at either end, thus the name "Humpback." It was used for vehicular traffic on Route 60 until 1929. It is believed to be the oldest bridge of its design remaining in the United States, which is why covered bridge enthusiasts come from all across to country to see it.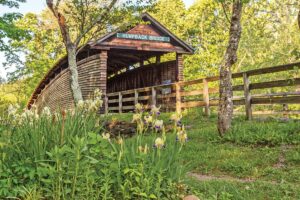 Today, it is part of a five-acre wayside park, complete with restroom facilities and picnic tables. The site is also used as a wedding venue and for Easter Sunrise Services (weddings must be coordinated with VDOT).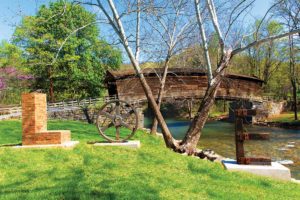 It is also the location of a unique LOVEworks sign. These popular signs are located throughout the state in recognition of the well-known Virginia is for Lovers tourism slogan. With the bridge as a backdrop, it has become one of the most popular photo opportunities in the Alleghany Highlands.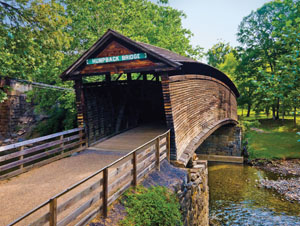 Admission: Free
Rt. 60 W of Covington; Exit 10, I-64, then 1 mile east on Rt. 60; or from east, Exit 16, I-64, follow signs to stay on Rt. 60W, approximately 6 miles
Midland Trail
Covington, Virginia 24426