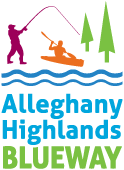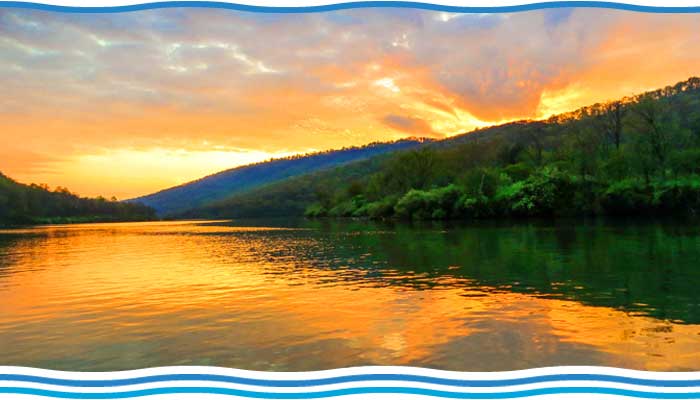 Explore the Blueway
The Alleghany Highlands Blueway is comprised of two lakes and two scenic rivers that offer great paddling, fishing and boating opportunities.
Each river and lake has its own unique personality and history, not to mention secret fishing spots. Take your time and spend a few days exploring the entire Alleghany Highlands Blueway.
Jackson River
The jewel of Virginia's Allegheny Mountains, the wild and scenic Jackson River enters the Alleghany Highlands from Gathright Dam on Lake Moomaw. Nearly 30 miles of the Jackson River wind through the Alleghany Highlands, with two small segments closed to the public due to private property and logging operations. The Jackson meets the Cowpasture River near the town of Iron Gate to form the headwaters of the James River, which flows all the way to the Chesapeake Bay. Several small streams that feed into the Jackson River, including Dunlap Creek and Potts Creek, also offer excellent fishing opportunities.
Cowpasture River
Approximately 10 miles of the Cowpasture River flows through the eastern portion of the Alleghany Highlands. Paddling on the Cowpasture is mostly moving water with a few easy straight forward rapids with great views of the surrounding mountains. Near Iron Gate, the Cowpasture meets the Jackson River to form the James River, which flows through neighboring Botetourt and Rockbridge counties on its way to the Chesapeake Bay.
Douthat State Park
Not only is Douthat State Park one of Virginia's oldest state parks, it's one of its finest. The Outside Family Vacation Guide named Douthat State Park one of the nation's 10 best. Its contribution to the Alleghany Highlands Blueway is Douthat Lake, a 50-acre lake with swimming, boating and seasonal trout fishing.
Lake Moomaw
Lake Moomaw is the northern most portion of the Alleghany Highlands Blueway. The lake, which is shared by the Alleghany Highlands and the County of Bath, has 43 miles of undeveloped, wooded shoreline just perfect for exploring by canoe or kayak yet large enough for sailing and motorboats. Add in beautiful campsites and world-class fishing and you've got a perfect vacation.

More great paddling and fishing opportunities can be found in neighboring Botetourt County on the Upper James RIver Water Trail.