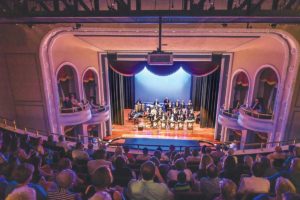 The Historic Masonic Theatre
became an important part of life in downtown Clifton Forge when it opened its doors in 1906. It was once known as
The Mason Hall and Opera House
and has been host to many political speakers, like William Jennings Bryan, and big name entertainers, like Tex Ritter, Burl Ives, Gene Autry and many more. Silent movies and later talkies, newsreels and classic movies were shown on its screen. The building is rich in history. It is now listed on the
National Register of Historic Places.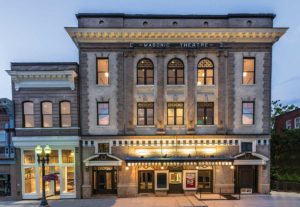 The theatre is enjoying a renaissance. In 2016, a major restoration was completed. The theatre, stage and other aspects of the building were meticulously restored to its original grandeur. It is once again a thriving center of activity for the community. In addition to artistic, musical and theatrical performances, it is also an event venue for meetings and social activities.
Check the website for event information. Seeing a performance on stage in the Historic Masonic Theatre is an experience you will never forget.
Admission: Varies by performance
510 Main Street
Clifton Forge, Virginia 24422