In the Alleghany Highlands, June is always an exciting month – you have several festivals & events, kick-offs to the summer season, fireworks, and live music can be found just about anywhere. But what many who are familiar with the region know, is that June is the start of summer paddling season!
Paddling along the Alleghany Highlands Blueway is something you just have to experience for yourself! The Blueway is comprised of two rivers and two lakes, all great for paddling. In this article, we will focus on paddling along the Blueway's two rivers – the Jackson & Cowpasture Rivers. Both rivers meet just outside of the Town of Iron Gate and form the headwaters of the Historic James River.
The Jackson River is incredible for many reasons. It's naturally emerald green waters, incredible cascading cliff views and overall mountain scenery make this river one of top destinations for Outdoor Recreation in the Alleghany Highlands. The water is crystal clear in most sections and offers up some fun Class I and II rapids to make each trip enjoyable for the whole family. The Jackson is easily accessible with five public access points spanning from Lake Moomaw to Intervale, where Alleghany Outdoors, the regions river outfitter, is located. The staff at Alleghany Outdoors can set you up with a kayak/canoe/tube and a shuttle to put you on whichever stretch of river you would like to paddle! There's also 9 additional public access points that pass through Covington, Low Moor and Clifton Forge. 
A great benefit to floating the Jackson that you don't find many other places, is that you never have to worry about low water levels. The river is fed from Gathright Dam at Lake Moomaw, keeping water levels at a great depth for paddling, even in times of the year where there hasn't been much precipitation. Although this is a great advantage for paddling, we want to make sure you are aware that the folks at Gathright Dam also have regularly scheduled pulse releases and on those days, it's best to stay off the water as levels are not safe to be on the river. You can find a schedule of pulse releases here.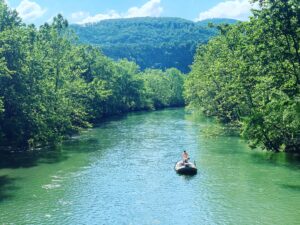 Lastly, the Jackson might be one of the best spots for natural trout fishing! A little known fact is that it's considered a Blue Ribbon Trout Fishery, as anglers have long known the river to be a great spot to land a beautiful trout due to its lower temperatures and great natural habitat. Wade out into the water from one of the many boat launches or hop in a boat and find your own favorite spot along this incredible river!
As for the Cowpasture River, a day spent along this stretch of water might just be one of most enjoyable floating experiences in western Virginia! The Cowpasture is free flowing through some of the region's most scenic landscapes and sits in the shadow of the beautiful Allegheny Mountains. Floating the Cowpasture is more of "lazy river" type of float as it doesn't have the same level of rapids that the Jackson has. This is often a preference for some families, as they are looking for a slower paced day of kayaking and conversation. The Cowpasture is also naturally warmer and attracts large crowds in the early summer months while water levels are up. In dry periods, water levels along the Cowpasture can become too low, making it tough to float. Always be sure to check the river gauge for water levels, especially in the late summer months.
There are 4 public boat launches along the Cowpasture and numerous other private access points that make this river easily accessible as well. Don't be surprised if you pass by numerous groups hanging out, enjoying the day along the many islands scattered throughout the river.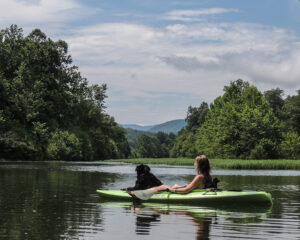 The temperatures are perfect, the water is clear, the views are abundant, and as always, the people are welcoming and friendly! Visit the Alleghany Highlands today to enjoy the crystal clear waters of the Alleghany Highlands Blueway.
*It is important to note, there are some private property owners along our rivers that do not allow fishing along their property. Most of these sections are marked, but always make sure you are in a location that fishing is allowed.
For a complete listing of access points along both rivers, click here
#UniquelyAlleghany #VaMountains #LoveVA