For nearly a decade, the Alleghany Highlands has encouraged people to visit the region and discover the places and experiences that are "Uniquely Alleghany."
The phrase rolls easily off the tongue. It has even become a somewhat popular hashtag on social media. But, what exactly is so unique about the Alleghany Highlands?
Unique means "one of a kind", so something can not be extremely unique. There are several places in the Alleghany Highlands that certainly qualify as one of a kind.
Humpback Bridge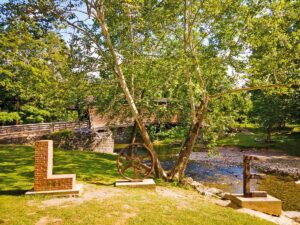 According to the Virginia Department of Transportation, there are seven covered bridges in Virginia. Three of them are on private property. Only one has the unique humpback design. It's unknown how many bridges of this design exist throughout the world. It is believed that the one in the Alleghany Highlands is the oldest. 
It's worth noting that there are over 200 LOVEworks displays around Virginia. Only one offers a photo op in front of a beautiful and historic covered bridge.
Jackson River Scenic Trail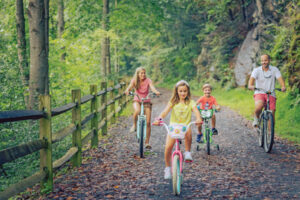 Rail-to-Trail projects have exploded in popularity in recent years. There are books and websites devoted to them. People travel all around the country to explore them. The Jackson River Scenic Trail, which stretches from Covington northward into neighboring Bath County, offers as much stunning scenery mile-for-mile than any rail trail on the east coast. For much of its 19 miles, the trail runs parallel to the Jackson River. In addition to views of this pristine river, there are scenes of vast farmland and towering mountains.
Gathright Dam and Lake Moomaw
Gathright Dam is an earthen and rolled rock-fill embankment on the Jackson River that forms Lake Moomaw. The tailwater section just below the dam is widely recognized as one of the best trout fishing locations in Virginia. The lake area and surrounding area offers excellent fishing, paddling, hiking and camping. It's unique among man-made lakes in Virginia because its shoreline is undeveloped. The rugged beauty of the mountain-ringed lake is what makes it popular among visitors.
Falling Spring Falls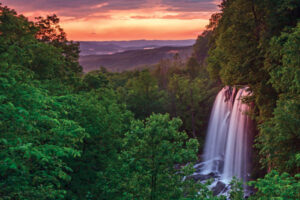 You might expect a dramatic 80-foot waterfall with a backdrop of unspoiled mountains to be the payoff for a long trek into remote wilderness. In the Alleghany Highlands, Falling Spring Falls is accessible to all because it is a roadside attraction. A viewing platform and free parking are located on Route 220, a brief 10 minute drive north of Covington. It's worth numerous trips to see it shrouded in the early morning mist, during peak fall foliage or frozen solid in mid-winter. No wonder it's one of the most Instagrammed spots in the mountains of Virginia.
That's just a few examples. You really should visit and form your own one-of-a-kind opinion.