The Commonwealth of Virginia played a key role in the American Civil War. Every corner of the commonwealth was touched by the war. From Richmond, the capital of the Confederacy, to the famous battles on the outskirts of Washington to right here in the Alleghany Highlands, the bloody war and its lessons are remembered.
Four official markers indicating the historic significance of each site can be found in the Alleghany Highlands. Step back in time as you visit these markers in the Alleghany Highlands and learn about life in the 1860s and the importance of this region in the war effort.
Averell's Salem Raid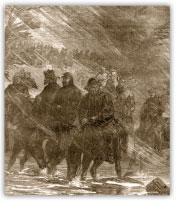 In the winter of 1863, having just completed a raid on Salem, Virginia, 2,500 Union soldiers narrowly escaped capture by crossing the Island Ford Bridge over the icy and raging torrent of the Jackson River.
Exit 16, Visitors Center at Mallow Mall
Jackson River Depot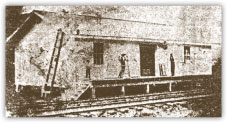 Scene of a daring raid by Union forces on the railroad depot in 1862, that captured supplies and important information about Confederate dispositions.
Exit 24, turn right onto Selma-Low Moor Road/Route 696, 1 mile on right at Oakland Church
Lucy Selina Furnace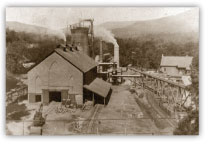 This charcoal-fired cold-blast furnace, named after the wives of the men who built it, operated from 1827 to 1852. It was reopened in 1863 to supply pig iron for cannons, munitions and rails to the Confederacy.
Exit 35, ½ mile west on Route 60 on right
Australia Furnace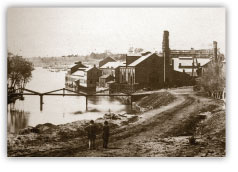 This "hot blast" furnace had an advantage over the more common "cold blast" furnaces, which made the Australia Furnace more valuable as a source of raw materials. It was purchased in 1862 by the owner of Tredegar Iron Works in Richmond, who moved pig iron by wagon to the James River for transport to Richmond.
Exit 35, ½ mile west on Route 60 on right